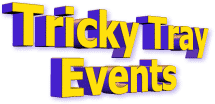 This Site Is For You - The Tricky Tray Lover!

Scroll Through Tricky Tray Events Below
*Due To Weather*
Check Directly With Orginization For Any
Changes or Cancelations
Site Can Not Be Updated During Day
Power Play Gaming
Denville, NJ


TRICKY TRAY APPAREL
Get The Latest T-Shirts & Tops
And Wear Your Passion For Tricky Trays!
It's All Right Here!
Attention New Jersey Tricky Tray Organizers
Is Your Tricky Tray In Compliance With
The State of NJ
Don't Let Your Event Be Compromised
Get All The Legal Info At
http://www.state.nj.us/lps/ca/lgccc.htm
973-273-8000
home | events | post an event | links | contact us
© 2004-2015 All Rights Reserved
TrickyTray.com